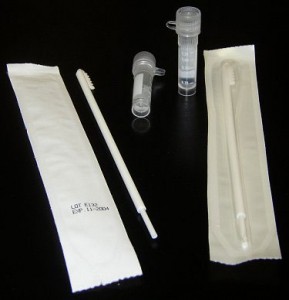 DNA Kit
MORE INFORMATION:
Many of the links below reference Family Tree DNA and may have also been covered in the information on the About DNA Testing page listed on the left of this page.
Use these links to learn more about DNA testing:
Comparative Chart of Testing Companies
Includes their services and prices and is located on the ISOGG website:
http://www.isogg.org/ydnachart.htm
http://www.isogg.org/mtdnachart.htm
Tutorial about DNA on the Blair DNA Group website at:
http://blairdna.com/dna101.html
More Websites about DNA Testing
Megan Smolenyak Smolenyak has appeared and been a featured speaker at numerous national and local television and radio shows including PBS's Ancestor Series. She also lectures on DNA nationally. She also writes articles for Ancestry and other publications. Here are links to her two websites
http://www.genetealogy.com/
http://www.honoringourancestors.com/
Y-Search
Y-Search is a free public website where anyone no matter which company they test with can upload their DNA results and compare it to others who have done the same.
http://www.ysearch.org/
The International Society of Genetic Genealogy was founded to promote the use and better understanding of genetic testing. They have a lot of information on their website to aid one in learning more about testing at:
http://www.isogg.org/
ISOGG Newbie Mailing List
http://groups.yahoo.com/group/DNA-NEWBIE/
ISOGG Journal of Genetic Genealogy Magazine
http://www.jogg.info/
BOOKS, Etc about DNA
Here is a link to Amazon.com .
http://www.amazon.com?_encoding=UTF8&tag=youfamtre-20